What is Hrapson?
It is a medically tested and clinically proven solution, which has reduced snoring in 3 out of 4 people. Tanner Medico recognize the need for a strong anti snore devices in form of an anti snoring nasal spray, which can be simply pumped into each nostril 4-5 times a night to relieve you. Snoring is mostly caused by the back of the throat collapsing against your tongue each time you breathe, or excess fat formation around the nasal cavity and throat, which causes obstruction in the airway while you're asleep. We have worked upon developing a miracle snoring spray, which helps to ensure that snoring is not in your list of worries by a long shot. Hrapson is one of the best anti-snoring devices, which allow nasal application to open up this obstruction and make for a good night's sleep.
FIND A PHARMACY
About Hrapson

Храпсон contains: Sodium chloride, glycerol, polysorbate 80, edetatesodium, Potassium sorbate and HPW (pH Adjusted and according to ph eur.

Application: Nasal application. Dosage: 4-6 pumps for each nostril at bedtime. You should be able to feel the solution in the throat. No adverse effect has been detected after treatment.

Packing: Nasal delivery system, 30 ml. Sufficient for approx 25-30 treatments.

CE: CE-marked in conformity with the EEC Directive 93/42/EEC. US FDA CDER listing: Labeler code 024804, NDC 24804*001, Reg. # 3005919226, FEI # 3005919226
Why do we Snore, see this video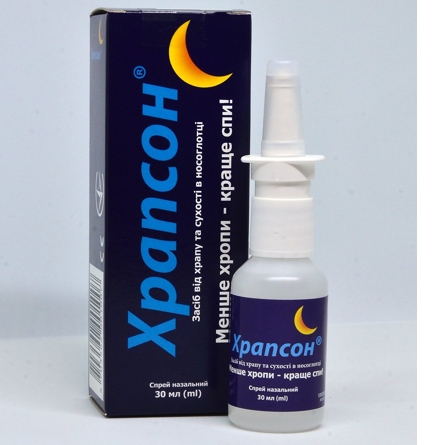 Why choose Hrapson?
If you still are wondering about why Hrapson should be your ideal solution, then it would help to know that we have ranked quite high in being the most adequate anti-snoring devices. Hrapson contains Sodium chloride, glycerol, polysorbate 80, Edetate sodium, Potassium sorbate and purified water, while just a few applications of the snore sprays regularly, allows you to get rid of snoring in the first few days itself. This simple yet effective snoring aid is available to you in all leading pharmaceutical and chemist stores.